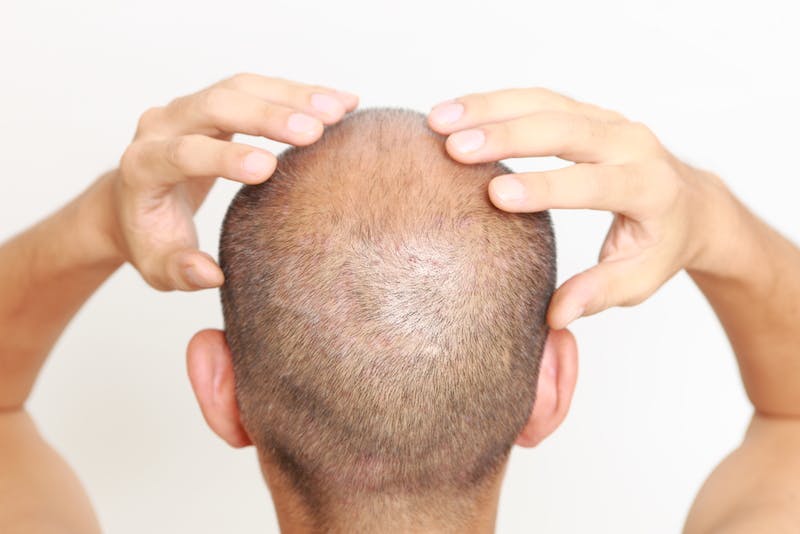 If you live in Washington DC and are looking for a hair restoration treatment that works, we want to introduce you to autologous therapy. At Chevy Chase Facial Plastic Surgery in Bethesda, MD, we offer this treatment that can help both men and women suffering from mild to moderate hair loss achieve improved hair growth and health through a simple, natural, and effective treatment process.
How Long Does a Hair Restoration Treatment Take to Work?
Trying to watch your hair grow is like attempting to watch paint dry. You want to see results, but you also don't have time to sit around watching them appear. Once you undergo one of our hair restoration treatment plans designed to restore, strengthen, and improve your hair, expect to see results. However, you will need patience because hair growth takes time. Once you complete the recommended number of treatments, you can expect to experience noticeable results three months after your initial treatment. Results will continue to improve with time, and you will watch the slow yet steady improvement of your hair growth in the months following your treatment.
What Is Autologous Therapy?
At Chevy Chase Facial Plastic Surgery, we offer a hair restoration treatment called autologous therapy. This therapy relies on the growth factors and healing properties found within the body's own blood to increase Blood flow to the scalp while delivering isolated, healing growth factors to the area. This treatment combines the benefits of microneedling with PRP therapy to restore hair growth and improve the overall quality of your hair. It can also promote scalp health and will target areas that have thinned over time.
What Can It Treat?
Autologous therapy is an effective hair growth treatment that can help improve the density, health, and thickness of the hair in both men and women. It's minimally invasive and doesn't involve any pain, surgical techniques, downtime, or a recovery period.
How Does It Work?
You've probably heard of microneedling before, which is traditionally used to improve the face or other areas of the body that require total skin rejuvenation. Microneedling helps increase collagen and elastin production in the deeper layers of the skin by creating hundreds of micro-injuries on the skin's surface. In doing so, this treatment evokes a healing response from the body that helps repair, heal, and restore the skin in the treatment area.
Microneedling and the Scalp
However, microneedling isn't just limited to the complexion, but it can be effectively used to rejuvenate other areas of the body, including the scalp. We can perform this treatment on the scalp, and the process used will help restore hair growth and health. Not only do microneedling treatments create tiny injuries on the surface of the skin, but those injuries also act as microchannels. Picture these microchannels as tiny pathways that reach into the deeper layers of the skin. Anything applied to the treatment area after a microneedling session will be better absorbed by the skin and will reach the deeper layers to promote healing and restoration. The microneedling device used during the treatment creates channels that range between one and two mm in depth.
Applying the Growth Factors
During this treatment, after the microneedling process takes place, the isolated growth factors that have been removed from your blood will be applied to strategic areas of the scalp. These isolated growth factors that are found in your blood will stimulate the body to heal and promote hair growth in once dormant hair follicles.
Frequently Asked Questions
How Long Does the Treatment Process Take?
While this treatment may sound extensive, it's actually a relatively quick treatment. It only takes 30 minutes to complete, and then you will be free to go about your day.
Is It Painful?
Microneedling involves the use of a device fitted with tiny hair-thin needles to create micro-injuries in the skin. For that reason, we use a multi-modality numbing treatment to ensure that you are completely comfortable throughout the entirety of the treatment. You won't feel any pain but instead can relax as our technician performs this effective treatment process that will eventually help you achieve beautiful, healthier, and thicker hair.
How Many Treatments Will I Need?
Since different patients have different goals when treating their particular form of hair loss, not every treatment plan will be the same. However, we typically schedule a series of three to four treatments with one month between each. This schedule gives your scalp a chance to begin growing new hair between treatments. It also allows us to best target your area of concern. Additionally, the best results come when patients schedule maintenance appointments every six to twelve months to continue to promote hair growth and prevent additional future hair loss.
Is There Any Downtime?
There's no downtime associated with autologous therapy. If you live in the Washington DC area and have experienced hair loss or thinning hair but have been putting off scheduling a hair restoration treatment because you can't afford to or simply don't want to take time off of work, you won't have to. Once your treatment session is over, you can resume your normal daily activities, and you won't have any limitations. We do ask that patients wait 24 hours before washing their hair post-treatment.
Who Is a Candidate?
If you are tired of using chemical-laden or ineffective hair growth topical products in an attempt to promote hair growth, there is another option. If you want to experience a natural treatment that delivers results, you may be the perfect candidate for this hair growth treatment. Men and women with mild to moderate hair loss can successfully undergo this treatment and achieve some incredible results. Who Isn't a Candidate? It's important to understand going into this treatment that there are some patients who will not qualify. Patients who have experienced a significant amount of hair loss or have lost hair along their hairline and or crown may achieve better results from a traditional hair transplant procedure. Several factors will determine whether you qualify for this treatment, including your ultimate goals, the location of your hair loss, your scalp, and your hair loss pattern. An initial consultation with Dr. Sitapara will help determine if autologous therapy is right for you.
What Are the Treatment Benefits?
This treatment provides men and women with different hair loss concerns the ability to target and treat their particular form of hair loss in a completely natural way. It offers many benefits, including the fact that the treatment process is quick and minimally invasive. This treatment uses the growth factors and healing properties found in your blood to restore hair growth, so you won't have to worry about an adverse reaction. You cannot be allergic to your own blood, so unlike all of those topical products that contain chemicals and other ingredients that can cause an allergic or inflammatory reaction, this treatment won't. The treatment process is quick yet effective, and you won't have to plan around any downtime.
Is It Safe?
Not only is this treatment process completely effective, but it's also safe. It is much safer than other forms of hair restoration because it doesn't involve chemicals, invasive techniques, or surgical measures. You won't have to be put under to endure the treatment process, and you won't have to take any painkillers post-treatment to get through an arduous recovery period. Autologous therapy is one of the safest and most natural ways to restore hair on your scalp and, in doing so, restore your confidence.
Restoring Hair Growth in Washington DC: A Treatment You Can Trust
Hair loss is a serious condition that affects both the appearance of confidence of men and women alike. When considering a hair restoration treatment, it's important that you choose an office with a team that you can trust. At Chevy Chase Facial Plastic Surgery, you'll be treated by a team of experts who will take every measure possible to help you achieve your desired results and enjoy the treatment process. You'll be treated by Dr. Sitapara, a skilled doctor who understands how to effectively perform this natural hair restoration treatment and can help address your area of concern. You can trust his recommendations and that he will use his extensive experience and abilities to help you experience all the benefits that come with restored hair growth.
Providing You With Excellent Care From Start to Finish
Our experts will walk through this process with you, from your initial consultation to your final treatment, and ensure that you are treated with the attention and care that you deserve. You can rest assured that you will see results, you will experience improved hair growth, and you will get a confidence boost that will improve your outlook on life.
Learn More
If you live in the Washington DC area and want to experience a hair restoration treatment that is not only natural, but works, we can help. Beautiful hair is within your reach, and thanks to this treatment, now you can improve your appearance and increase your confidence at the same time. Contact us today at Chevy Chase Facial Plastic Surgery in Bethesda, MD, to learn more.
---
Back to Blog