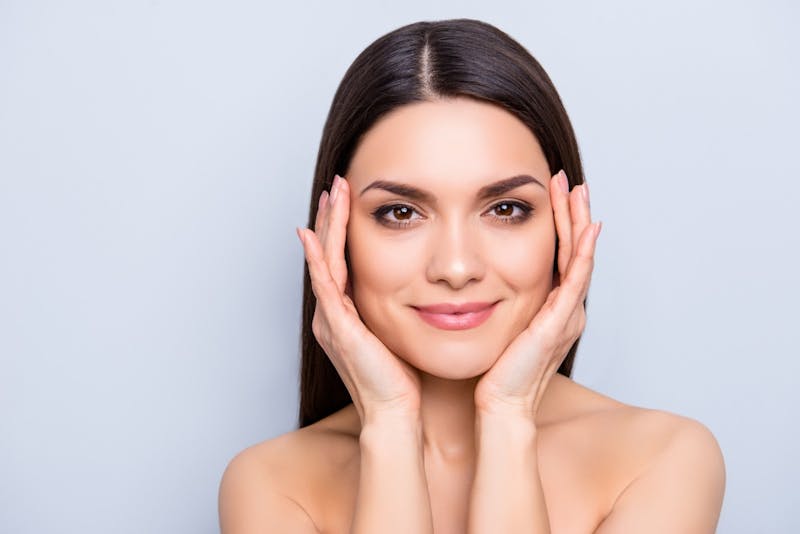 Everyone has a unique facial structure that can respond differently to the aging process. Some people struggle more with loss of volume, while others can begin to see more lines and wrinkles. Dermal fillers can be suitable for treating both concerns and can also be useful for contouring the face and adding shape and volume to the lips. At our clinic in Bethesda, MD, we offer several different types of dermal fillers to help serve a wide variety of patients. From hyaluronic acid fillers to injectables that can help stimulate collagen production, we have many options for you to choose from at Chevy Chase Facial Plastic Surgery.
What Are Dermal Fillers?
Dermal fillers
are injectable products that are used to non-invasively sculpt the face, minimize wrinkles, and restore lost volume. They can be a good choice for patients who want a facelift without having a surgical procedure. Dermal fillers can be made from different materials and they all offer temporary but effective solutions for many different cosmetic concerns. They can be used in a wide variety of patients of all different ages and skin types.
Where Can Dermal Fillers Be Used?
Dermal Fillers Under Eyes
Many of our patients complain of deep tear troughs or dark circles under their eyes. These concerns can often come as a result of loss of volume in the under-eye area. By using fillers, we can help to fill out these areas so that there are no longer shadows and the undereye area looks bright and youthful again.
Dermal Fillers for Lips
Small lips may be a natural feature of your face, or you may have lost volume over the years. The lip area can also be a common place for individuals to develop vertical lines. By using filler in these areas, we can minimize vertical lip lines, restore plumpness and volume to smaller lips, and correct inconsistencies in lip shape. Lip fillers often have a thinner consistency to keep the natural softness of the lips even while increasing the volume.
Dermal Fillers for Cheeks
Younger individuals tend to have fat pads in the cheek area that give them a rounded and lifted appearance. As fat pads are depleted and the skin loses its elasticity, this area of the face can begin to look hollow or thin. Dermal fillers for cheeks can help restore a more youthful shape to your cheeks, reduce wrinkles, and make your face appear brighter.
Dermal Fillers for the Lower Face
The lower face is a common area for dermal fillers because gravity can take its toll in this area in particular. Many people begin to develop jowls, nasolabial folds, marionette lines, and a downward turning of the mouth that can make them look less cheerful and approachable as they age. With dermal fillers, these areas can be filled in and lifted for a more youthful and pleasing appearance.
Dermal Fillers for the Jaw and Chin
If you are looking for a chiseled jawline or a more prominent chin but you don't want invasive surgeries, these areas can be treated using dermal fillers. A firm-textured filler can mimic bone and can make the jaw and chin much more defined.
Types of Dermal Fillers
Hyaluronic Acid Fillers
One of the most popular types of dermal fillers are hyaluronic acid or HA fillers. These fillers are common because the material is biocompatible and long-lasting and can produce effects right away.
You can find naturally occurring hyaluronic acid in many different parts of your body. This slippery material is perfect for keeping your eyes and skin hydrated. Many fillers use HA as their main ingredient including brands such as Restylane®, Juvederm®, and Belotero®. Each of these lines of products features different formulations and technologies that can make them perfect for treating different areas of the face.
Resilient Hyaluronic Acid Dermal Filler
If you are looking for a dermal filler that has natural movement and can make you look younger without the appearance of having anything done, the RHA® collection of fillers may be a perfect choice. This type of filler has cutting-edge technology that allows it to have the most natural look under the skin. It can be perfect for treating areas that are closer to the surface of your skin.
Poly-L-Lactic Acid Fillers
Not all fillers are made from hyaluronic acid. Sculptra is a dermal filler that is made from poly-L-lactic acid (PLLA) suspended in water. Rather than filling areas under the skin, Sculptra can restore volume through the stimulation of collagen and elastin fibers in the dermis. The PLLA particles are injected into the skin where they can begin to stimulate your body's natural reactions. Your body sends fibroblasts which begin to create more collagen. Sculptra's results can last for up to 2 years.
How Long Do Dermal Fillers Last?
The amount of time that dermal fillers will last is variable depending on your body and the type of filler that is used. Some fillers last less than a year while others can last up to two years. You will need to discuss with your healthcare provider which filler can be the longest-lasting in your situation.
Choosing the Right Filler for You
If you are not sure which of these fillers is right for your situation, your next step is to reach out to your doctor for advice. At Chevy Chase Facial Plastic Surgery, we will get a detailed health history, talk to you about your goals, show you photos of what our patients look like before and after dermal fillers, and discuss the pros and cons of each type of dermal filler. If you live in or near Bethesda, MD, we can offer convenient in-person consultations. Call us today or
schedule services through our website
.
---
Back to Blog