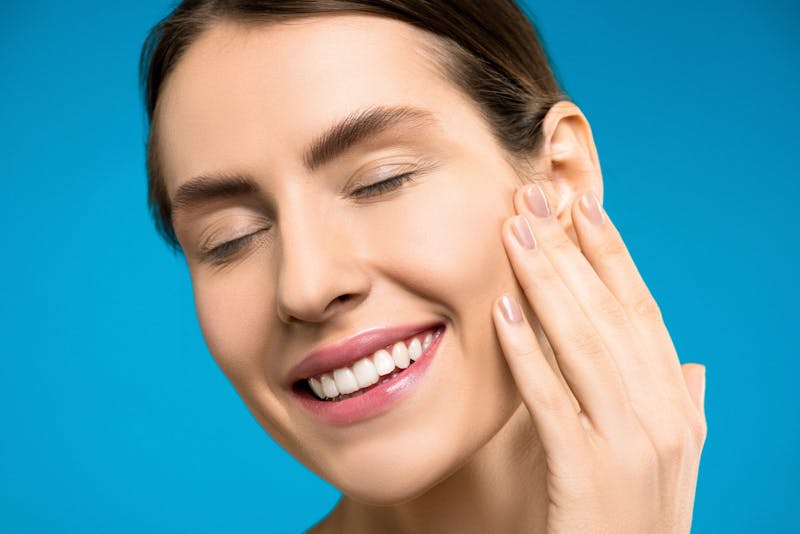 Reducing the amount of unwanted fat on your body helps keep you healthy, but fat can be an advantage when it comes to a youthful face. When we are younger, small fat deposits under the skin are partially responsible for keeping skin plump and fresh looking. As we age, the dermis and epidermis layers thin, causing a loss of facial volume. That volume loss creates wrinkles and hollow areas and can leave your face looking unbalanced with too much fullness in some places and too little in others. Chevy Chase Facial Plastic Surgery in Bethesda, MD, offers facial fat transfer to our patients who want to improve the overall balance and appearance of their face. Facial fat transfer is known by many names, including fat grafting, facial fat rejuvenation, and fat transfer. By any name, it is a commonly used technique that helps patients restore the volume in their faces.
What Is a Facial Fat Transfer?
Facial fat transfer is a surgical procedure that involves moving fat from one area of the body to another. We are fortunate to have the best facial fat transfer surgeons providing this service to our patients.
Fat transfer is commonly used to improve the appearance of the lips, fill in the nasolabial folds (smile lines), plump cheeks, and smooth out under-eye areas. This rejuvenation technique can also be used to diminish the look of scars or other facial imbalances.
Facial fat removal surgery is a surgical procedure that may require general anesthesia. The procedure might also be performed with local anesthesia and I.V. sedation. The best option depends on several factors, including the scope of the procedure.
During the procedure, fat is taken from your body via liposuction, processed, and transferred to the areas that have become saggy, wrinkled, or hollow. Common harvest areas are the inner/outer things, abdomen, and flanks. During processing, oils and blood are removed from the fat to produce a pure component for reinjection.
Fat grafting has been used by cosmetic surgeons for over 100 years, but the procedure has been greatly improved in the last two decades, thanks to ever-expanding technologies. The procedure that refines the harvested fat now yields a higher quantity and quality of fat that contains larger numbers of viable cells.
Many of our patients question why they should consider fat grafting instead of minimally invasive dermal fillers. Some of the benefits of having a facial fat transfer in Bethesda, MD, include:
Long-lasting results – between three to seven years
Multiple areas can be treated at the same time (more cost-effective than fillers)
Transferred fat cells provide other important elements to improve skin quality
Natural results
Facial fat transfer is an excellent choice for people who want to correct significant volume loss. Another advantage is that the procedure can be combined with other facial surgeries, such as a neck lift, eyelid surgery, and facelift.
What to Expect from Facial Fat Transfer Surgery
We begin every procedure with a thorough consultation and health evaluation. If it is determined that you are a good candidate for facial fat transfer, we can book your first appointment.
There are three steps to facial fat transfer – harvesting fat with a needle, processing the fat so that only pure, undamaged cells are used in the transfer, and finally, injecting the fat back into targeted areas.
You will be required to stay at the clinic for a short recovery period after the procedure is over. Your doctor will discuss all aftercare directions with you before and after the surgery.
Since general anesthesia or sedation is required, you will need to arrange a ride home. There is no need for a hospital stay, but we recommend our patients rest and avoid any strenuous activity for several days after the procedure. It may take up to four weeks before all signs of swelling are gone.
Who Is a Good Candidate for Facial Fat Transfer Surgery?
Both men and women enjoy the benefits of facial fat removal surgery. During your initial consultation, we will determine whether this procedure is the best option to help you reach your desired goals. You are likely a good candidate if:
You are healthy enough to receive general anesthesia
Your expectations are reasonable for what facial fat transfer can provide
You want only natural, living tissues to help rejuvenate your appearance
You are also considering eyelid surgery, a facelift, or other cosmetic surgery
You want to diminish the look of crow's feet, fine lines, and wrinkles
You want to reduce thin lips, sunken cheeks, dark circles, or bags under the eyes
Many people consider a facial fat transfer in Bethesda, MD, to correct changes that come with age, but age is not a factor when determining if you are a good candidate or not.
Facial fat transfer can improve facial contours and soften the look of acne scars or other imperfections in adults of any age. If you are unsure whether facial fat transfer is the best procedure for you, we will be happy to discuss other rejuvenating procedures with you.
Are You Looking for the Best Facial Fat Transfer Surgeons in Bethesda, MD?
Facial fat transfer is a safe, effective technique that uses only pure, natural material from your own body to improve facial contours, soften fine lines and wrinkles, and restore a youthful appearance.
Chevy Chase Facial Plastic Surgery in Bethesda, MD, includes facial fat transfer in our comprehensive list of services. Contact our clinic today if you'd like to know more about this procedure or any of the rejuvenating techniques we offer.
---
Back to Blog