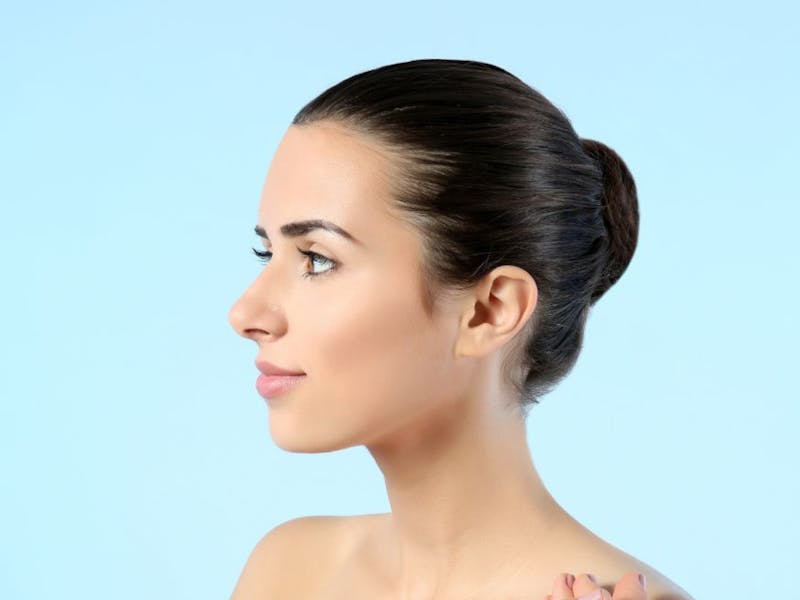 At Chevy Chase Facial Plastic Surgery, we're experts when it comes to wide nose rhinoplasty so that you can get the nose that best fits your face. This surgical procedure can help slim the nose, correct deformities, and reduce flaring nostrils so that you feel confident and comfortable with your nose. Whether from an accident, or just to get a proportioned nose that fits your face, our team of surgeons has the experience and knowledge that you can trust.
What is Wide Nose Rhinoplasty?
Also known as an osteotomy, a wide nose rhinoplasty is a procedure in which we can help alter your nose's bone structure to help give you a slimmer and more petite-looking nose. Used to help reduce the overall width of your nose, rhinoplasty for a wide nose can help boost your self-confidence and leave you with a nose that you've always dreamed of having.
Having the ability to alter and narrow down the bridge of your nose and your nostrils, wide nose rhinoplasty procedures have been a popular method for achieving a slimmer and overall more aesthetically pleasing nose. Wide nose rhinoplasty is performed in one of two ways, an open rhinoplasty, or a closed rhinoplasty.
Open Rhinoplasty
One of the two approaches to a wide-nose rhinoplasty is an open rhinoplasty. This method is used when major reconstruction needs to be completed to get you the results that you're after. This method also offers surgeons greater access to your nasal structure due to multiple incisions, making alteration and reconstruction easier. This also makes scarring afterward easy to hide since the incisions are hidden within the natural contours of your nose.
Closed Rhinoplasty
The other approach when it comes to rhinoplasty for a wide nose is known as closed rhinoplasty. This option is better suited when there is less reconstruction needed within the nose. Typically done with only a single precise incision, scarring is minimal, however, so are the changes that can be made within your nose due to only having a single incision made.
The Benefits of Professional Wide Nose Rhinoplasty
When it comes to obtaining the nose that you've always wanted, our wide nose rhinoplasty procedure can help. With our understanding of this particular nose job procedure, we're able to reshape, slim down, and contour your nose so that you get a nose that works best with your facial structure.
Below are some of the benefits that nose rhinoplasty offers when it comes to correcting things such as size, shape, or any other deformities that you may be struggling with. Removes unwanted humps or bumps Proportions the nose to match other facial features Fixes a flat or droopy nose Slims down a wide nose Corrects large or flaring nostrils Helps correct traumatic deformities
Your Rhinoplasty Wide Nose Treatment
Before your procedure, it's important to understand the process of wide nose rhinoplasty. This is easily accomplished during your initial consultation with one of our qualified surgeons where you'll have a chance to learn more about the procedure and what it entails. From that first consultation visit, through your recovery and follow-ups, we're here to ensure that you get the answers, guidance, and advice that you need to see flawless results when it comes to your nose rhinoplasty.
Initial Consultation
Your initial consultation is a key step when it comes to getting the results that you want. During this visit, we'll discuss your goals, and concerns, and address any questions or concerns that you may have regarding the procedure. We'll also review any previous work that you've done to your nose as well as take a look at your medical history to ensure that wide nose rhinoplasty is the best and safest choice for you.
This is the best place to have any questions or concerns answered by our certified surgeons so that you can feel confident moving forward with your rhinoplasty procedure.
Your Wide Nose Rhinoplasty Procedure
Once it's been decided that wide nose rhinoplasty is the right choice for you, we'll schedule your surgery. You'll return to our office two weeks before your scheduled surgery for a preoperative visit where we'll discuss the surgical plan so that you feel confident moving forward.
Dr. Porter conducts her rhinoplasty procedures at the Suburban Outpatient Surgery Center in Bethesda and at Georgetown University Hospital in Washington, DC. On the day of your surgery, you'll be placed under general anesthesia so that you sleep throughout the entire procedure. Skilled in both open and closed rhinoplasty, our surgeons will proceed with the discussed method to give you the best outcome possible when it comes to getting you the nose that you want.
The Road To Recovery
After your procedure, you'll remain at the hospital for about an hour recovering before heading home with light nasal packing. Most often, you'll return to our office the following day to have the packing removed, and for the next week, you'll use a salt water nasal spray daily. If your procedure includes sutures or a cast, we'll typically remove these about a week after your procedure.
After nine to ten days, most patients can return to their daily routine such as socializing and working, with most of the swelling subsiding within the first month. If your rhinoplasty was to help you breathe easier, you should notice a large difference at this point, for cosmetic procedures, you'll see the full results around a year later.
Your Wide Nose Rhinoplasty Professionals
When it comes to feeling confident and comfortable within your skin, Chevy Chase Facial Plastic Surgery professionals in Washington D.C. are here to help. To learn more about our wide nose rhinoplasty procedure, or to find out if it's right for you, contact us and set up your consultation with one of our experienced surgeons.
---
Back to Blog