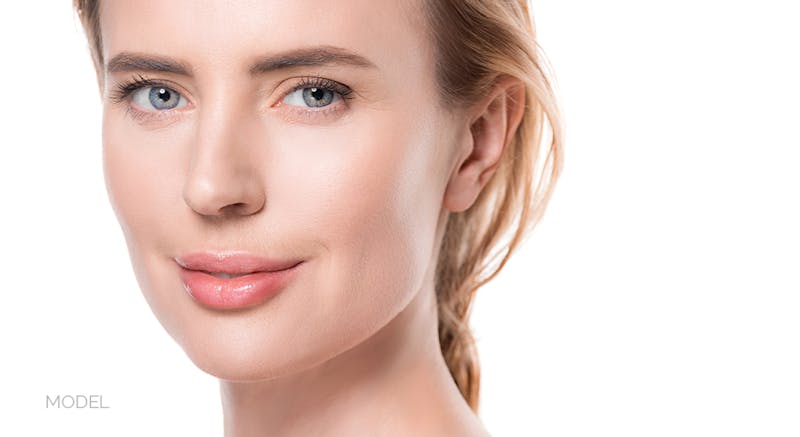 One of the biggest concerns Dr. Porter hears during initial consultations with her potential facelift patients is whether or not their facelift scars will be visible. This is a valid concern, and Dr. Porter completely understands. After all, she knows you don't want to take the time to have a facelift only to be left with clear scars that tell everyone in the Washington, DC area that you've had work done. At Chevy Chase Facial Plastic Surgery, Dr. Porter's goal is to provide each of her patients with superb treatment a complete understanding of their treatment options and expected results. To learn more about the facelift procedure and where you can expect scars to be located, keep reading.
Incision Placement For Addressing Cheek and Jowl Laxity And Facial Wrinkles Around The Nose And Mouth
To address skin laxity around your jawline and neck, Dr. Porter will make an incision in your hairline. This incision will begin just above your ear, travel down and around your ear, and end at the bottom of your ear - all being placed within the hairline. While this is a long incision, it is needed in order to give Dr. Porter the access she needs to the structures under the skin and soft tissues to make the changes necessary to provide you with a rejuvenated appearance, such as: Reducing jowl formation Removing loose skin in the face Reducing drooping in the cheeks Improving neck laxity Improving the jawline Dr. Porter is skilled and experienced in performing facial surgeries for her Washington DC patients. Rest assured that your scars after a facelift will be well disguised and you will only be left with a natural-looking enhanced appearance.
Incision Placement For Addressing Neck Laxity
To address skin that is sagging below the jawline of her Washington, DC patients, Dr. Porter will place a tiny incision underneath the chin. This small incision gives her access to remove this excess skin and resolve jowls and even a turkey neck. While this incision isn't hidden within the hairline, it is positioned in a natural crease under the chin. The only way any of your friends or family members might be able to see this scar is if your head is tilted all the way up. Additional incisions are made in the crease behind the ear and into the hair behind the ear. The length of the incisions is variable and depends on the patient and the amount of laxity
What You Can Do To Improve The Visibility of Your Scars After A Facelift
In order to give you the best results possible and minimize your scarring, it's important that you follow Dr. Porter's orders during your recovery. These post-surgery instructions include: Wear your surgical dressings for the time recommended by Dr. Porter Don't wash or touch your face until Dr. Porter clears you to do so Do not smoke or use other nicotine products Stay hydrated Get plenty of rest
Choose Washington, DC's Dr. Porter For Your Facelift
If you've been considering a facelift to restore your youthful appearance, there's no one better trained or experienced in the area than Dr. Porter. As a Washington, DC native with more than 20 years of experience and dual board-certification, she knows just how to give you the natural-looking results you want. Call her office today at (301) 652-8191 to schedule your initial consultation.
---
Back to Blog