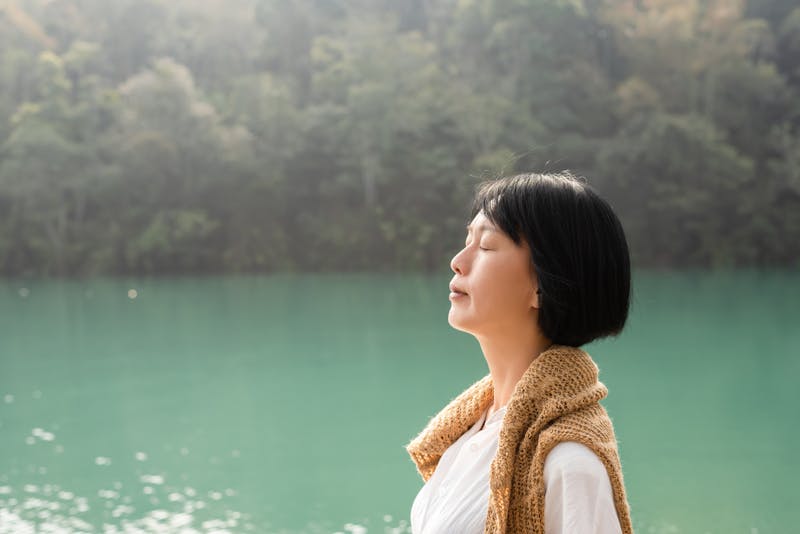 Are you concerned with the appearance of your skin lately? Do you feel as though it looks duller than usual? If so, we can help. With a Hydrafacial, you have a quick and painless way to rejuvenate your skin without surgery. If you want to renew and restore your skin to look youthful and radiant again, contact us here today at Chevy Chase Facial Plastic Surgery in Bethesda, MD, and book your first appointment.
How Does a HydraFacial Work?
Hydrafacial is a treatment that works with a three-step process. First, we'll begin by giving your skin a deep clean that will flush out any impurities that have been trapped in your pores. The next step is to exfoliate. We gently slough off any dead skin skills, promoting the growth of new, fresh skin cells. Next, we use premium-grade serums to give your skin a huge dose of hydration, absorbing it deep into the layers of your skin. Our patients absolutely love the process—it's quick, non-invasive, and feels amazing and refreshing on your skin. Not to mention, you get to enjoy the gorgeous results afterward, which will give your skin a beautiful and radiant glow.
What Are Some Benefits of This Treatment?
Treating yourself to a Hydrafacial offers benefits that both you and your skin will enjoy immensely. Some of the best advantages of getting this treatment include:
Deep Hydration
One of the main reasons why our patients opt for this treatment is because it delivers a big boost of deep, intense hydration to the skin. If you've got dry skin, getting a Hydrafacial could be the solution you've been looking for. Remember, the more your skin is hydrated, the younger and brighter it will look. Many of our patients also find that serums and creams absorb into their skin better after this treatment.
Reduce the Appearance of Fine Lines and Wrinkles
Everybody wants to have youthful, radiant skin. That's why this treatment is so popular—because it helps reduce the appearance of fine lines and wrinkles, so your skin looks soft and supple. You can enjoy results within just one treatment, making your skin look younger and brighter.
Get Beautiful, Radiant Skin
Dry, dull skin is a problem for many people. It's not just annoying, but it's incredibly embarrassing when your skin is peeling or flaking because it's so dry. Not to mention, most of those super expensive creams and serums don't even work. That's why we offer this treatment—it helps you give your skin a blast of refreshment to rejuvenate and hydrate. It will give you a beautiful, radiant glow you can only achieve with this unique treatment.
Get Firmer Skin
If your skin doesn't feel as elastic and soft as it used to, this treatment can help. It gives you amazing hydration and promotes healing from deep within. Many of our patients state that their skin feels so much softer and firmer after their treatment session.
Balance Skin Tone and Texture
Many of our patients feel that their skin tone and texture could use some improvement. If you've got red, rough, and bumpy skin, it can feel uncomfortable and look even worse. With this treatment, we can help you transform their rough, red skin to a softer texture. We'll balance any redness and smooth away any bumps, so your skin feels fantastic and looks beautiful. Your complexion will look amazing by the time we're done.
Reduce Enlarged Pores
When dirt, oil, and other residue becomes trapped in your pores, they widen and become enlarged. This treatment is like a magnet, pulling all that residue out from deep within your pores. With all that residue gone, your pores will shrink, making your skin look so smooth and absolutely HD ready.
Prevents Acne
This treatment can also help those who suffer from acne. The unique treatment process helps purge all of that excess sebum (oil), dirt, and residue from your pores and will reduce the appearance of breakouts in the future. Many of our patients that suffer from acne have found that this treatment helps very much and prevents new breakouts from occurring.
Minimize the Appearance of Sun Damage
Another common skin concern is sun damage and acne scars. This can leave your skin looking uneven, dull, and unhealthy looking. However, this treatment will help you effectively reduce the look of both sun damage and acne scars, so your skin will look beautiful again.
Improve the Look of your Skin
Getting this treatment will help improve the overall appearance of your skin, making it look young, fresh, and rejuvenated. It will also help plump your skin and make it feel firmer. In addition, it balances out your skin tone, making your face look radiant and eliminating common skin concerns after just one session. Remember, this treatment is completely painless, so you'll enjoy the results without feeling uncomfortable.
Frequently Asked Questions
Does This Treatment Hurt?
No, this treatment does not hurt. There's no pain and no discomfort. In fact, many of our patients look forward to their treatment sessions because they absolutely love the sensation and the way it feels on their skin. When we're finished, you'll have deeply hydrated skin that feels fresh and clean.
Is This Treatment Safe?
This treatment option is entirely safe. It won't harm you or your skin, and it's not invasive at all. It's one of our most popular treatment options for our patients who want beautiful, smooth skin.
How Do I Know if This Is the Right Treatment for Me?
This treatment is ideal for just about everybody. If you want to renew the look and youthfulness of your skin, this treatment option is perfect. It will also reduce the look of fine lines and wrinkles, so you'll look younger and more beautiful.
Does This Treatment Require Downtime?
This treatment doesn't require any recovery or downtime. It's the best way to rejuvenate and refresh your skin without the risk or painful recovery time that comes with surgery. You can right back to your daily routine as soon as you're done with your session.
How Long Does a Treatment Session Usually Take?
Typically, a Hydrafacial treatment session takes about30 minutes from start to finish. It's pretty amazing how this treatment can deliver noticeable results in such a short time—our patients who undergo this treatment emerge with glowing, radiant skin.
When Will You See Results?
One of the best benefits of this treatment is that you can see the start of your results almost immediately after your treatment session. Your skin will be visibly brighter and firmer, not to mention intensely hydrated. The next few days after your treatment session, you'll see even more noticeable improvements to your skin and complexion.
How Long Do the Results Last?
You can expect the results to last about two weeks or longer when you get this treatment. However, please keep in mind that this varies from person to person. When your results start to fade, all you have to do is book another treatment session, and you'll have soft, smooth, and beautiful skin again.
How Often Can You Get This Treatment?
This treatment is so gentle and safe; most people can get one every two weeks. If you see your results lasting longer, then wait to book your next follow-up. After that, it's entirely up to you and how soft and smooth you want your skin to look. You can get a treatment every two weeks or when you see the results start to fade.
Does This Treatment Work On All Skin Types?
Yes, this treatment is effective on all different skin types. No matter what kind of skin or skin tone you have, you're going to love the way it looks and feels after this treatment. You'll feel rejuvenated and refreshed, and your skin will feel amazingly soft.
Can You Go Right Back to Work After a Treatment Session?
This treatment doesn't require any downtime at all. Immediately after your treatment session, you can head right back to work or other daily activities, just like you usually would. There's no painful recovery, so there are no limitations on what you can and can't do.
Love the Skin You're In—Book Your Initial Consultation Today
If you want your skin to look beautiful and smooth with intense hydration, you're going to love this treatment. It's easy, painless, and our patients love the way it makes their skin feel. You can rejuvenate your skin without the hassle or invasiveness of surgery or other harsh treatments. Contact us here at Chevy Chase Facial Plastic Surgery Center in Bethesda, MD, today and schedule your initial consultation.
---
Back to Blog