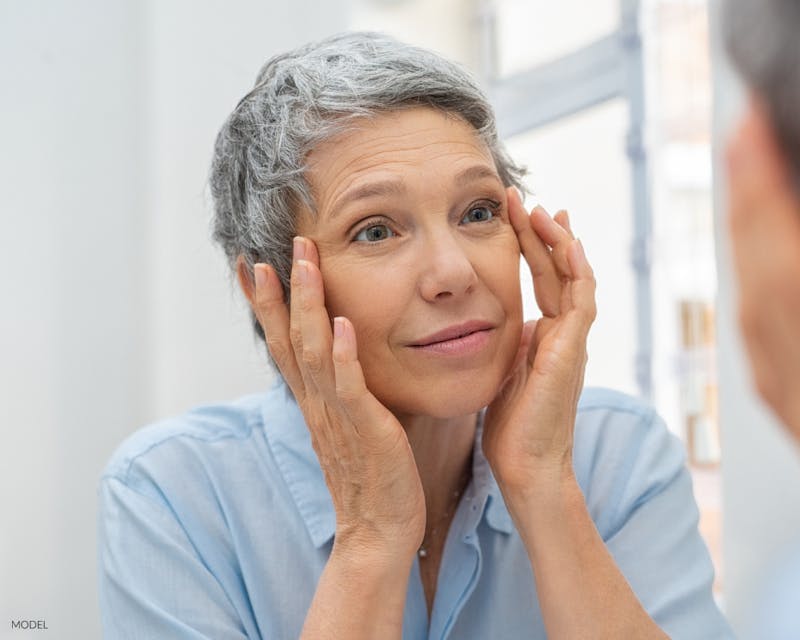 Many people believe that blepharoplasty is purely a cosmetic choice. While many patients do choose this plastic surgery procedure to gain a more youthful appearance, Dr. Jennifer Parker Porter of Chevy Chase Facial Plastic Surgery in Washington, DC sees patients every year who are interested in having blepharoplasty surgery in order to improve their vision. If you've are someone who has been experiencing eyelid hooding that is so severe that it compromises your vision, call Dr. Porter to make an appointment for a blepharoplasty consultation. Men and women from all over Washington, DC choose Dr. Porter in part because her practice is specifically focused on facial aesthetics. Also, Dr. Porter is a double board-certified plastic surgeon with extensive training and experience in performing facial procedures, including eyelid surgery. Throughout her more than 20 year career, she has helped hundreds of patients gain better vision with blepharoplasty.
What is Blepharoplasty?
Though the medical term is blepharoplasty, many residents know this surgery simply as eyelid surgery. To make it even easier to understand, blepharoplasty is a surgical procedure that improves the appearance of the eyelids. Dr. Porter performs this procedure on an outpatient basis, meaning you will be able to go home shortly after your surgery. Washington, DC patients who suffer from obstructed vision because of their droopy eyelids typically have this procedure performed on their upper eyelids, but Dr. Porter can also correct the lower eyelids at the same time.
How is an Upper Blepharoplasty Performed?
In order to correct droopy eyelids and improve the blocked vision of her patients in Washington, DC, Dr. Porter will perform an upper blepharoplasty. She will place an incision within the natural crease of the upper eyelid so that it will be completely hidden. After she has made her incision, Dr. Porter will then remove the excess skin and fat that has been causing your eyelids to droop into your line of sight.
Let Dr. Porter Help Improve Your Vision
Before you can make any decisions about blepharoplasty surgery, you should first start by having an initial consultation with Dr. Porter in her Bethesda, MD office. During your visit, you will have extensive time to get to know her and express your desires and aesthetic goals. Dr. Porter will also physically examine your eyelids to ensure you are a good candidate for the procedure. It's important that you provide Dr. Porter with a complete health and medical history during your consultation so she will be able to create a treatment plan that is appropriate and designed just for you. Dr. Porter will encourage you to review before and after photos of past patients so you can get an idea of what to expect from your blepharoplasty. Once you have made the decision to move forward with your surgery, Dr. Porter will request that you meet with your primary care physician and ophthalmologist to ensure you're healthy enough for elective surgery. After you have been cleared for surgery, you will visit Chevy Chase Facial Plastic Surgery once again for a preoperative appointment to review the surgical plan Dr. Porter has created for you. She will also provide you with resources to make your recovery faster and more comfortable. Call Dr. Porter's Washington, DC office today at (301) 652-8191 to book your initial consultation so you can get back to seeing the world more clearly!
---
Back to Blog