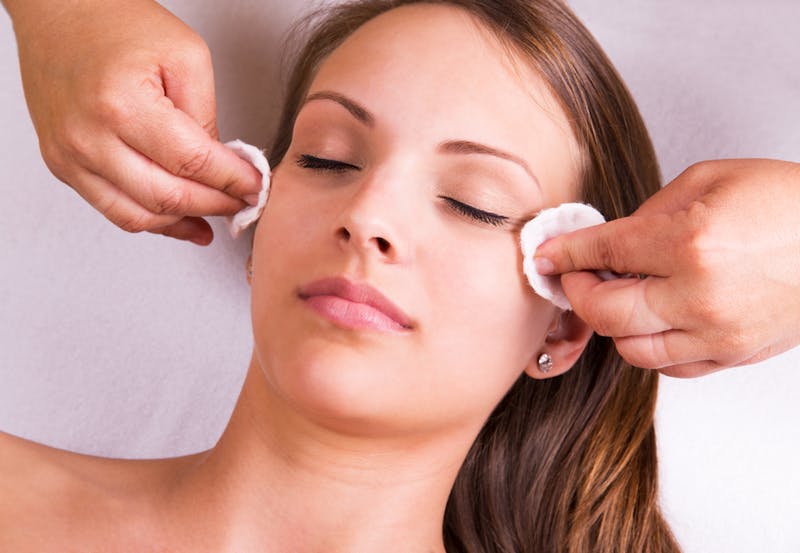 Are you looking for an easy way to rejuvenate your skin? To eliminate signs of aging and restore your glow? At Chevy Chase Facial Plastic Surgery in Bethesda, MD, we have the solution: a chemical peel chosen with your unique needs in mind.
What Is a Chemical Peel?
This treatment is used to improve the appearance of common concerns on the face like wrinkles, acne scars, sagging, sunspots, and uneven skin tone. It's also rooted in simplicity: a chemical solution appropriate to your skin type and needs is applied; that same solution causes tissues to exfoliate and later peel off. This allows new, regenerated skin to rise to the surface - smoother, softer, and less wrinkled than your previously damaged skin. Peels are divided into three basic categories. A superficial or lunchtime peel is the gentlest and incorporates a mild acid like alpha-hydroxy. Only the skin's outermost layer is penetrated so that exfoliation is limited to the surface. This treatment refreshes your appearance and can improve mild skin discoloration, acne, and a rough texture.
Medium and Deep Peels
A medium peel is usually comprised of glycolic or trichloracetic acid. It penetrates deeper than the previous treatment discussed, sinking into the outer and middle layers of skin to eliminate damaged cells. This choice helps even skin tone and eliminates acne scars, age spots, and fine-to-moderate wrinkles. It can also soften skin and treat certain precancerous skin growths. A deep peel delivers the broadest and most dramatic results of all three options. Many formulas include phenol or trichloroacetic acid to improve deep acne scars, extensive sun damage, moderate wrinkles, freckles, and discoloration. Patients see incredible results and fully rejuvenate the face. But unlike superficial and medium peels, this treatment can only be performed once.
Your Pre-Treatment Consultation
At this point, you might be asking which of these peels is most ideal for you. The good news is you don't have to decide alone. We'll conduct a thorough pre-treatment exam to ensure you're an appropriate candidate for treatment. This will include an inspection of your skin to identify tone, thickness, and texture. We'll also use this time to hear your expectations for treatment. And if you have any questions, now is the time to ask them. The exam is an opportunity for you to disclose all information about your current medications, skin conditions, and general health. We review these details to ensure your safety. Specific conditions we'll ask about include: Keloids, past or present Unusual skin pigmentations Serious medical issues Severe or recurring cold sore outbreaks
Preparing for Treatment
It's important to prepare your skin before proceeding with treatment. For instance, you should avoid sun exposure at least 10 days before your peel. If you have plans to be outside for any considerable length of time, you must apply plenty of sunscreen and keep your face protected with a wide-brimmed hat. Also stop exfoliating your skin. We know - this goes against all sage skincare advice. But a chemical peel already serves as an in-depth form of exfoliation. Going into treatment with new cells freshly exposed can cause irritation. Although you may stop actively exfoliating with a scrub or other product, you additionally need to watch for ingredients in your routine skincare line-up that may act as exfoliators.
A Few Additional Pointers
Your skin should be well-hydrated the day of your appointment. This means at least a few days in advance, you need to stop using all products that can dry out your tissues. And keep drinking water; it's still the best way to nourish your body and skin from within. It's best to schedule your peel at least a month before any big events. This gives your skin time to fully recover so you look your best. If your celebration, vacation, or other important occasion is in the next couple of weeks, delay your peel until after the event. You should also: Refrain from products that contain retinoids one to two weeks before treatment Stop using anti-acne or anti-aging medications Delay any additional cosmetic therapies, such as microdermabrasion or waxing, until after your peel Stop smoking Inspect your skin for lesions, open sores, or skin infections the day of treatment
What to Expect from Treatment
It's best to understand what treatment entails before it takes place. You will lie face-up throughout the peel, which takes about an hour to complete. We will gently apply the chemical formulation to your skin, and then you'll feel different sensations that are all completely normal. For instance, you'll likely experience some tingling and a slight change in the temperature of your face; some people feel warmer, while others say their skin feels a bit cooler. The chemicals work to extract purities from the skin. Depending on the treatment you choose, some peels remain on your skin for just three to five minutes. They are then rinsed off and/or neutralized. Other peels are designed to remain in place for two to four hours and then self-neutralize. We'll explain exactly what you can expect from your peel during your consultation.
Caring for Skin After a Peel
To get the most from your chemical peel, you'll want to follow specific after-care steps, starting with a hands-off policy. The primary goal of a peel is to loosen and slough away damaged cells to reveal the fresh, glowing skin underneath. Touching your face with your fingers only adds back all the dirt and bacteria that contribute to a dull complexion. It may at first raise an eyebrow, but pulling your hair back away from your face will keep breakouts at bay. That new skin we keep mentioning needs to go through the natural healing process; loose strands that trail across your face or linger near your temples will cause breakouts that may lead to scarring. Your best bet is to keep hair out of the way by using a headband for at least a few days.
Watch Your Skincare Products
You need to use only two products immediately after your peel: sunscreen and a neutral moisturizer. The former is a no-brainer. You've just completed treatment to eliminate damaged skin. You therefore want to prevent damage to vulnerable skin by applying a layer of sunscreen each and every day. Keep in mind that sitting near a window, spending any time outside, or working in front of a screen can wreak havoc that's easily preventable with sunscreen. The same goes for a gentle moisturizer. Applying this twice daily keeps tissues moisturized and can give you a nice, healthy glow. If you need help in picking any of your post-treatment products, please let us know. We're happy to offer guidance according to your skin type.
Frequently Asked Questions
The best candidates for chemical peels are those who suffer from wrinkles, sun damage, blackheads, congestion, or acne. In terms of acne, the chemical solution chosen for your treatment not only removes the skin's top layer but also penetrates follicles to help unblock pores. This means trapped dead cells and oil get loosened and removed. Inflamed skin looks calmer as acne is treated and prevented. For those grappling with sunspots and surface pigmentation issues, acids help "unglue" cells that hold the pigmentation in place. Likewise, patients with fine lines are treated to smoother and softer skin that looks years younger. This is owed to the cell regeneration that occurs more efficiently once surface tissues are removed.
Is One Peel Enough?
Unless you're having a deep peel, the answer is no. The best results follow a series of six to eight peels, although it's true you will look more vibrant after just one. The key is in allowing results to build upon each other. Don't worry - we'll develop a treatment plan that addresses all of your concerns and keeps your skin in tip-top shape.
Can Anyone Have a Peel?
A peel is one of the safest and most effective ways to keep your skin healthy. They provide skin with a nice glow and renew the cells everyone is born with. Especially as we age, peels support the cell turnover process that naturally slows with time. This promotes a more radiant complexion that helps you look and feel your best. And, as mentioned earlier, we'll use a consultation to ensure this treatment is right for you.
A Proven Treatment
Peels have withstood the test of time and are today recognized as effectively fighting the aging process. We'll consider your skin's individual needs in choosing the one that's right for you, and with the right home skincare regimen, you'll enjoy brilliant results. Schedule your consultation today by contacting Chevy Chase Facial Plastic Surgery in Bethesda, MD.
---
Back to Blog