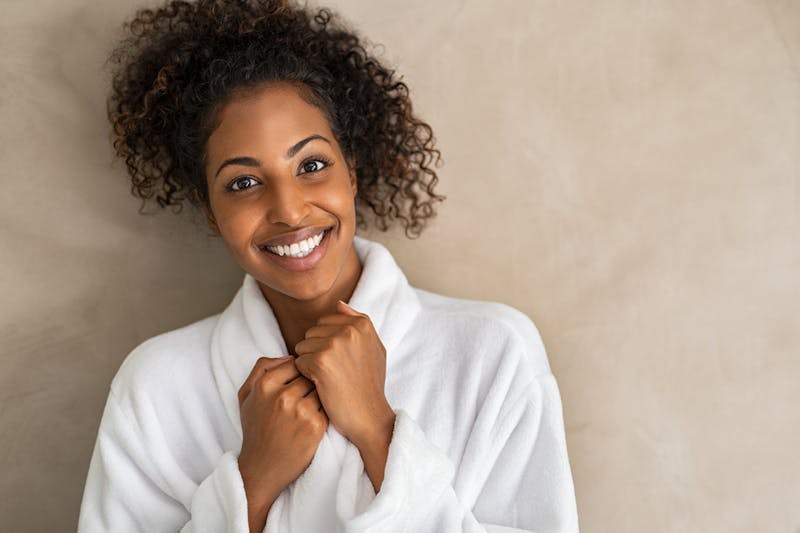 In Bethesda, Maryland, Chevy Chase Facial Plastic Surgery was founded by Jennifer Parker Porter, MD, a plastic surgeon of African American descent who understands the specific needs that people of color have when getting plastic surgery or skin treatments. Aerolase was designed with Black skin in mind and addresses many concerns that people of color have. This revolutionary new treatment can smooth out rough texture, tone skin, and improve elasticity.
What Is Aerolase?
This laser helps with a variety of different skin-related concerns, including textural problems, tone differences, and skin looseness. It's been fully vetted and is perfectly effective, safe, and gentle. While many lasers can only be used on a narrow range of skin types, this one is effective for all skin tones, making it more versatile and effective than virtually anything else on the market today. It employes 650-microsecond technology that allows it to treat all different types and skin tones without any pain whatsoever. One of the ways that this treatment is different is that it doesn't need to cool down the skin while treating it. This way, it doesn't harm or disrupt the melatonin in the skin, making it preferable and safe for darker tones. Its pulses are also substantially shorter than other laser versions, up to 50 times quicker, meaning that it can work through your epidermal layer rapidly without overheating your cells.
Who Is It For?
This treatment is for darker-skinned people who previously couldn't use laser technology. It's specifically designed so that darker-skinned people don't have to worry about substantial pigment alterations with this treatment plan. The laser specifically targets hemoglobin, skin tissue melanin, and water which all make their mark on your face as you age. Melanin can form heavily pigmented lesions as you get older Hemoglobin is a naturally occurring molecule in your red blood cells that can cause vascular lesions and spider veins Water can actually dry out your skin as you age because it has trouble binding to hyaluronic acid This treatment targets all three of these areas without damaging your skin. The result is clearer, younger-looking, healthier skin. Also, most people don't need as many treatments as they would with other lasers, making this option a true win-win.
Safety Is Guaranteed
This treatment is perfectly safe thanks to the precise wavelengths of the laser and the energy they produce. Many lasers rely on long wavelengths designed to target wrinkles and other deep-tissue concerns. Although these can be effective at dealing with deep lines and wrinkles, they can also hurt your tissues and cause unique problems for African American people. Fortunately, Aerolase gives you the best of both worlds. The unique wavelength is specifically designed to help erase wrinkles while still keeping your deeper tissues safe and addressing more superficial concerns like skin tone and texture. Ultimately, this proven technology is effective and gentle enough to tackle a whole host of different conditions, including the following: Warts Skin ulcers Psoriasis and other textural concerns Scarring Hyperpigmentation and tone concerns
How Does It Work?
This sophisticated technology works on a variety of different levels and can be customized to meet your specific needs. Primarily, this laser targets the water that is trapped in your dermis, prompting your body's temperature to increase and putting it into a self-healing mode. When your body is in a healing mode, it tends to produce collagen; one of the miracle ingredients in our bodies that smooths out lines, shrinks pores, and tightens the skin over time. Collagen is a naturally occurring protein that we make less of as we age. Many people consider collagen to be the ultimate fountain of youth, responsible for dealing with sagging skin and erasing wrinkles. If your body is producing collagen, you can expect that your skin will look plumper and more youthful, as well as glowing.
No More Hyperpigmentation
This laser can deal with vascular lesions and dark spots by directing a concentrated form of energy to the area that needs it most. This energy neutralizes hyperpigmentation by targeting patches of pigment and getting rid of them without compromising any other tissues. That way, you can deal with hyperpigmentation without running the risk of burning your skin or having a bad reaction to the laser.
Acne Is Gone Forever
Many people struggle with acne at some point in their lives, and laser care is one of the most effective ways to remove acne scars. African American patients may struggle with more acne-related problems because sebum production could be higher in darker skin. Unfortunately, many African American people also have post-inflammatory hyperpigmentation along with their acne. Post-inflammatory hyperpigmentation happens when our bodies produce extra melanin in an effort to heal breakouts, causing darker spots on the skin. To neutralize the dark spots, dermatologists need to determine why the acne is there in the first place. Discovering The Root of the Issue People of color often experience acne differently than those with lighter skin tones, so it's crucial to discover the root of the issue to effectively treat it. Fortunately, Aerolase works wonders on darker skin because it can address a lot of acne causes across the board, leaving you with smooth skin. These causes can include the following: Too much sebum or oil Skin inflammation Bacteria- specifically P. acnes This treatment can eliminate many of the major causes of acne in African American skin, and it's far more effective than most creams or ointments. Unlike topical remedies, you will see the laser's results right away. All of this happens at the same time as the laser is encouraging your skin to produce more collagen, a double-win for your complexion.
Benefits
There are a number of different benefits that you can expect as a result of this treatment, although individual results may vary. Treatment sessions tend to be quick, with most of them lasting about 10 minutes and almost never going past 45 minutes. They also tend to be painless, thanks to this laser's technology and speed. Most patients don't even need an anesthetic for the treatment. It's easy, effective, and specifically designed for African American skin.
Suggested Scheduling
Patients who want anti-aging results generally get this treatment every month, although you can stretch it out to every other month or even a few times a year. It's really up to you and how drastic you want the results to be. On the other hand, those who want to eradicate their acne should stick to a much more rigid schedule because acne can crop up again until it's totally neutralized. Our team can talk to you about what the best plan for your needs is and set up a schedule that suits your lifestyle and comfort level. Our goal is to make sure that you are totally comfortable with your ongoing care.
Ways to Enhance the Results of Your Treatment
Wear Your Sunscreen
Although darker skin contains melanin, which defends you from the sun, it's still important for African Americans to apply sunscreen, especially after undergoing laser treatments. UV rays actively reduce collagen in your skin, so if you want to keep the youthful effects of Aerolase, it's best to stay out of the sun and use a good topical cream when you're outdoors. Also, consider doing the following things to help shield your skin: Try to stay in the shade as much as possible Put on a hat and sunglasses if you're going to spend time outside Re-apply sunscreen often throughout the day
Clean Your Face Gently
Be gentle with your skin after your laser treatment. Skin will be a lot more sensitive than before, but it's still important to cleanse it regularly. Wash your face with a gentle cleanser at night and in the morning. Our office can give you some great recommendations if you need help picking the proper cleanser for you.
Moisturize
If you want your skin to look luminous and be properly protected after a laser treatment, make sure that you moisturize it properly. Look for a moisturizer that will uphold your skin's natural barrier without clogging your pores. Great moisturizer ingredients include: Rich kinds of butter like mango and shea Water Hyaluronic acid Gentle oils like Jojoba oil Don't skip moisturizing because your skin is oily. It's still crucial that you do it. Just make sure that you stay away from pore-clogging ingredients like petroleum jelly. Also, one of the best ways that you can keep your skin looking its best is to drink a lot of water.
Treatment Designed for You
African Americans have long been denied the restorative effects of laser technology. Fortunately, Aerolase is changing the game and allowing people of color to take charge of their skin. It addresses many cosmetic issues that are common in communities of color and can leave you with a soft, youthful face. Isn't it time that you took charge of your skin once again? Contact Chevy Chase Facial Plastic Surgery in Bethesda, Maryland at 301-618-0733 today to learn about your exciting options and schedule a consultation today.
---
Back to Blog