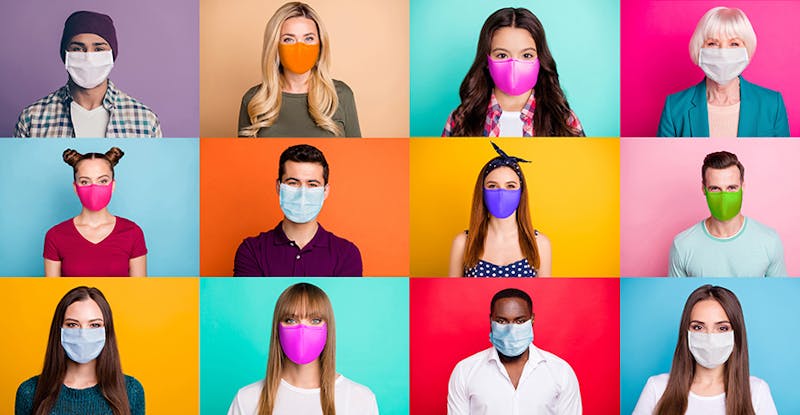 We certainly have been through a lot in the past year! Pivoting in our personal and work lives. We have suffered losses, experienced loneliness, uprooted our lives as we know it and yet we persevere. This past year has been unbelievable to say the least. I often find myself suddenly thinking, "I can't believe this is happening!" But it is and it has. It is our new way of living and it seems that it will be this way for a while. From our practice standpoint, I must first applaud our team. The Chevy Chase Facial Plastic Surgery Team has risen to the task of keeping our patients safe. Executing the protocols to their fullest to ensure that they keep the patients and themselves free of exposure to the virus. Screening every patient before they enter the office. Taking temperatures and spraying hands with hand sanitizer. After our morning meetings, they strategize amongst themselves in which rooms to place patients to ensure they are spaced appropriately. Processing all patients in their rooms to minimize exposure to the common areas. Thorough cleaning of every room after every patient. Always wearing their masks when in the office; spacing their meals in the break room. And . . . when given the opportunity they all jumped at the chance to get the vaccine. They know that science is our way out of this unforeseen, unbelievable time that we live in. How fortunate are we all that the scientists were able to get a jumpstart on the vaccine using the knowledge from the past? To develop a vaccine so quickly seems scary to many but the development phase was rapid so that the testing phase would have the appropriate period of time to ascertain the effectiveness and discern adverse reactions. Fast forward and over the past two months, millions of Americans have been able to receive the vaccine – those with high exposure and those that are highly vulnerable to start. We are fortunate that the members of the Chevy Chase Facial Plastic Surgery Team have each had at least one dose, and at the time of the publication of this blog both Dr. Sitapara and myself have had both doses of the vaccine. #NotThrowingAwayMyShot
Why get the vaccine?
Many wonder – why should I get the vaccine? The vaccine is important for many reasons. In order to get to herd immunity, approximately 70% of the population should have immunity to the virus from exposure or from the vaccine. With a population of more than 300 million, it would take 210 million or so infections to obtain herd immunity – the death toll would be unimaginable. So it is necessary for the overwhelming majority of us to receive the vaccine in short order to minimize spread and prevent the development of mutant strains that may be resistant to the vaccine. When you have the chance – please take your shot.
The Vaccine and Fillers
As you all know, fillers are a common treatment performed in our offices. Many patients have contacted us to ask about whether they should have the vaccine and what is the impact that the vaccine would have on their fillers. Many rumors have been circulating that the vaccine dissolves fillers and leads to long-term untoward effects. To dispel some of the myths: The vaccine does not dissolve fillers. If you have the opportunity, you should get the vaccine; having had fillers in the past is not a contraindication. A few (3) patients in the clinical trials experienced swelling after receiving the vaccine. This is a 1 in 10,000 chance occurrence. They were treated with Benadryl and/or oral steroids with a resolution of the swelling. The general thinking is oral antihistamines would be the best first-line defense so as not to block the immune response. If swelling is severe, steroids are a consideration. We do not know how many of our thousands of patients have had the vaccine yet, but we have not had any calls regarding adverse reactions. If you have experienced any adverse reaction related to the vaccine and your fillers, we would like to hear from you. I have a few colleagues that have had fillers in the past that have had temporary swelling that resolved. This is very anecdotal. As we learn more about the vaccine and any relationship to any treatments that we perform, we will be sure to keep you informed. In the meantime, we will continue to follow the science and scour the journal articles to stay apprised of the latest developments. We are hopeful that we can defeat this virus with an accelerated vaccination protocol – diminish fatalities and improve the quality of life for us all. Until that time we remain vigilant! Stay Safe! Jennifer Parker Porter, MD, FACS and The Chevy Chase Facial Plastic Surgery Team
---
Back to Blog