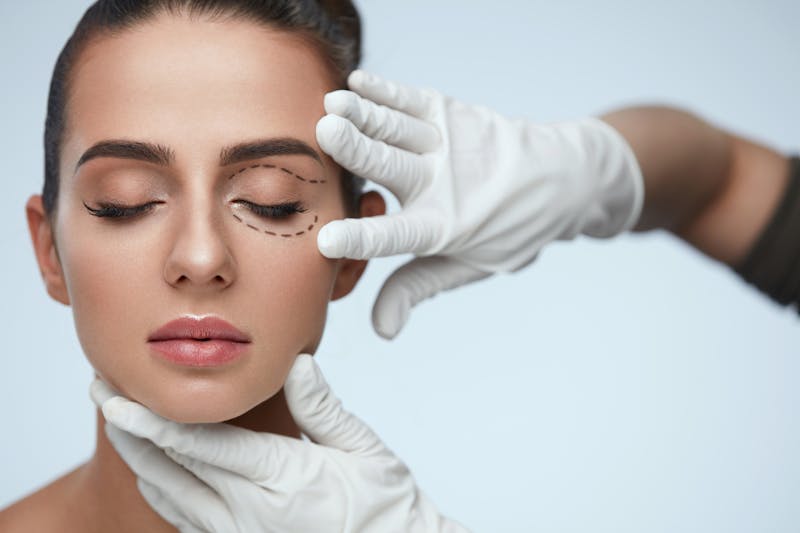 Have you noticed the aging process has started to take effect? Maybe the skin around your eyelids has started to sag, or your eye bags have grown more noticeable and you feel it is aging you beyond your years? Maybe you've already looked into blepharoplasty and believe it could be your solution? At Chevy Chase Facial Plastic Surgery in Bethesda, MD we understand that deciding to have cosmetic surgery can be overwhelming and we consider it a privilege to help guide clients on their journey. Eyelid lifts have been growing in popularity over recent years and are now ranked as one of the most popular cosmetic surgery procedures across the globe. It is ranked in the top five in many countries including the United States and the United Kingdom.
What Is This Procedure?
As we age, the skin around our eyes can begin to droop, the eyelid skin can stretch, muscles weaken and fat pockets can start to bulge, becoming more prominent. The cosmetic procedure that can correct this is called blepharoplasty, also known as an eyelift or eyelid lift. It is a form of eyelid surgery that is performed to remove baggy, puffy skin from underneath the eyes and also get rid of sagging, excess skin from the upper eyelids whilst tightening muscles and supporting tendons. The results bring a more youthful, energized, and attractive appearance.
Its popularity may be due to the fact that as we age, our eyes are often the first to show signs, with some beginning to notice a fatigued and aged appearance as early as their thirties. With our eyes being the first thing people tend to notice, it comes as no surprise that a growing number of people want to reverse the signs of aging and restore their eyes to their former glory.
What Happens During the Blepharoplasty Procedure?
Performed by a qualified surgeon, the procedure is usually carried out with a local anesthetic, and the patient under sedation, it can also be performed under general anesthetic and can last around two hours. There are three different types of procedures; upper eyelid surgery focuses on delivering tone and tightness of the skin between the eyebrows and the upper eyelashes. Lower eyelid surgery helps to correct drooping skin, puffiness, and eye bags. Double eyelid surgery is a combination of both upper and lower eyelid surgery.
Generally starting with the upper eye, the surgeon will cut along the natural lines on the fold of the eyelid and remove excess fat, muscle, and, or skin, before closing the incision and starting the process on the bottom lid if required. A reputable surgeon will reshape and re-sculpt the look of your eyes to meet your aesthetic goals and leave you with a younger and well-rested appearance.
Benefits
The benefits can be unique for each individual dependant on their reasons for having the treatment. As it removes excess skin, wrinkles, and bags and can tighten the surrounding skin, the results can give a more youthful appearance. Eyelid surgery can build confidence and can have tremendous benefits to a client's self-esteem and body image and results can last the rest of your life.
Severely sagging skin around the eyes can reduce peripheral vision, blepharoplasty can reduce or even eliminate these types of vision problems. It can be done as a stand-alone procedure or in conjunction with other cosmetic surgery such as a facelift, browlift, or skin resurfacing.
Who Does It Work For?
Good candidates for eye lifts are individuals in good general health and have realistic expectations of the results they want to achieve. If you have excessive sagging or drooping of the skin around the eyes from aging, hereditary reasons, or other conditions such as edema or allergies, then this procedure could be an option for you.
Candidates should be non-smokers, otherwise, their doctor may ask them to stop smoking one month before the surgery takes place, and should be free of any medical condition which could affect the body's ability to heal. Although more women than men undergo blepharoplasty, it is still considered one of the top five cosmetic procedures that men undertake.
Aftercare
After your surgery is over, you will spend a couple of hours in the recovery room so you can be monitored. Later that day, you'll be sent home to recover. Your doctor will give you some instructions to best care for yourself after surgery. You'll be asked to use ice packs on your eyes for about 10 minutes every hour during your first night after surgery. The day after surgery, you should be using ice packs on your eyes four to five times throughout the day. You will need to regularly and gently clean your eyelids using prescribed eye drops or ointments. You should avoid straining or any strenuous activities for about a week. Avoid smoking until you are completely filled, as this can impact your body's ability to heal. You'll need to avoid rubbing your eyes, and if you do use contact lenses, don't put them in for about two weeks after surgery. You'll be asked to wear darkly tinted sunglasses when you go outside to protect the skin on your eyelids from the wind and sun. You'll need to sleep with your head raised higher than your chest for a few days to help promote healing. And all the blood-thinning medications your doctor had you avoid before surgery you will also need to avoid after surgery for a while.
Recovery Diet?
You may be recommended to follow a liquid diet for the first 24 hours following the procedure. During the recovery period, you should prioritize eating healthy and nutritious foods that will promote a balanced and fast healing process, this can include green vegetables, raw fruits, and whole, unprocessed foods. Alcohol is not recommended during the healing process.
Smoking should be stopped at least one month before the surgery as it can slow the body's healing process and it is not advised to get back into the habit. Smoking is known to be one of the biggest accelerators in the aging process due to the chemicals that damage collagen and elastin, the fibers that give your skin its strength and elasticity.
Will There Be Scars?
Typically, after the healing process is complete, scarring is non-existent. Because the incisions made during surgery are made along the eye crease on the top lid and the lash line on the bottom, any scarring that does occur should blend in with the natural fold of the eyelid, making it invisible to the untrained eye.
Are Results Long Lasting?
Although this procedure can not stop the aging process altogether, the results you achieve are generally considered permanent and are designed to be long-lasting, with you reaping the benefits for years to come. To maintain your results for as long as possible it is recommended to avoid rubbing the eyes and protect the surrounding skin, this can be done with routine moisturizing and using sun protection daily.
Learn More
Blepharoplasty can be a life-changing procedure and is a serious decision with a lot of information to consider. If you think this procedure could benefit you contact us today at Chevy Chase Facial Plastic Surgery in Bethesda MD to schedule your consultation and learn more about your options in blepharoplasty. Our staff is ready to assist you in every step of the process.
---
Back to Blog